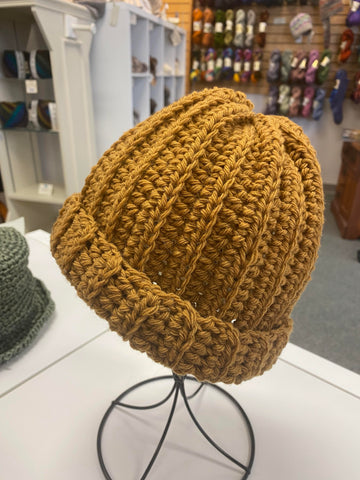 Class - 10/7 and 10/14 - Crochet 102
$ 75.00
Crochet 102
For Crocheters who know the basics (if you don't know the basics, we recommend taking Crochet 101 first)
Saturday October 7th and 14th 10:30am-12:30pm (This is a 2 session class.  Please plan to attend both sessions)
Description: In this class we will be expanding on basic stitches and techniques, how to follow a pattern and finishing techniques.  We will use this knowledge to make a hat!
Some stitches we will be covering include; chains, single crochet, half double crochet, double crochet, and treble/triple crochet. We will discuss maintaining straight edges and working back and forth versus in the round.
Materials:
100g of worsted weight yarn
Crochet hook size H
Darning Needle
All students will be given a 15% discount on yarn supplies for the class (with the exception of a few yarn brands).  Please let us know at the time you are checking out that you are taking this class so that we will be sure to give you the discount!
Cancellations can be made for a complete refund 10 days before the date of the class.  Must Love Yarn reserves the right to cancel the class if the minimum number of students is not met, at that time a full refund will be given to any students who have registered.
Minimum of 2 students
Maximum of 8 students