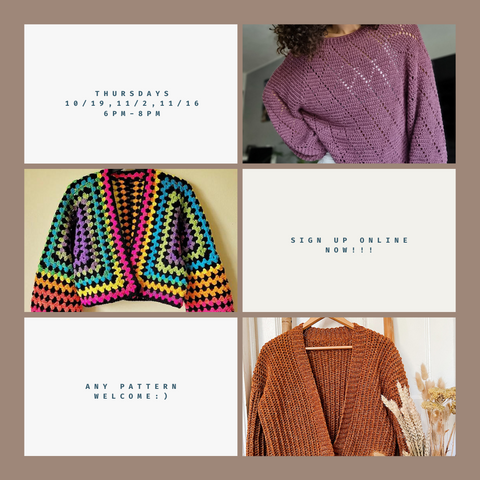 Class - 1/27, 2/17, 3/16 and 3/30 - Crochet Sweater Together
$ 100.00
1/27, 2/17, 3/16 and 3/30 1:00-3:00 pm
A multiple week series in which we will be crocheting sweaters (or vests)!
Any pattern welcome with some recommended beginner sweaters to choose from. The class will be directed towards helping each student achieve their sweater goals, meeting them at whatever experience level they are starting at. Main class focus will be on pattern reading and interpretation as well as guidance with stitches and garment construction methods.

This is a great class for those who want to make their first crochet sweater or more experienced crocheters who have a complex pattern they are looking for some guidance with while making.
All students will be given a 15% discount on yarn supplies for the class (with the exception of a few yarn brands).  Please let us know at the time you are checking out that you are taking this class so that we will be sure to give you the discount!
Cancellations can be made for a complete refund 10 days before the date of the class. Must Love Yarn reserves the right to cancel the class if the minimum number of students is not met, at that time a full refund will be given to any students who have registered.
Miniumum of 2 students
Maximum of 8 students