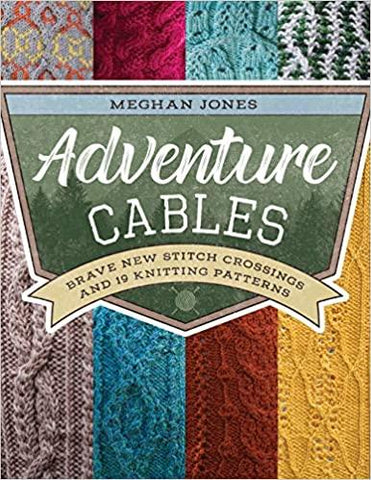 Adventure Cables: Brave New Stitch Crossings and 19 Knitting Patterns
$ 29.95
Get ready for a mind-blowing adventure in cables!
In this exploration of cable knitting, Meghan Jones goes way beyond your traditional cables of knit stitches crossing over purl stitches. Instead of stopping the overall patterning of the garment when she reaches the cables, she continues the stitch pattern through the cables, working lace, textures, colorwork, and even cables over top of other cables. It is truly an innovative approach to cables and one that will have you drooling with the possibilities.
Meghan first introduces you to this new way of thinking about cables, and then teaches you how to work the cables, how to interpret her charts and patterns, and also gives 19 patterns for sweaters, wraps, socks, and more using her inventive cables. The patterns are divided into five sections based on the type of stitch pattern that is being cabled: Texture Stitches, Lace Stitches, Cable Stitches, Mosaic Stitches, and Stranded Stitches.
Pull out those cable needles (or work without; Meghan shows you how and when you can skip the cable needles) and choose a pattern for a your knitting adventure!