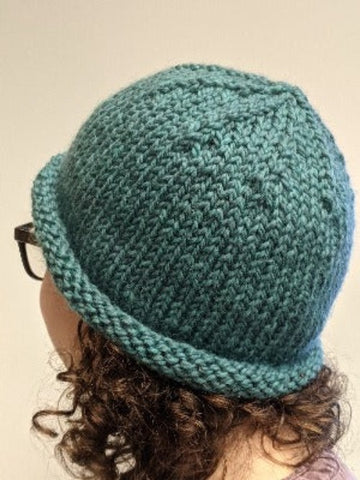 Class 9/23 and 9/30 - Knitting 102 - Hat
$ 75.00
Knitting 102
For Knitters who know the basics (if you don't know the basics, we recommend taking Knitting 101 first)
10:30-12:30 September 23rd and 30th (This is a 2 session class.  Please plan to attend both sessions)
Come join us for this fun beginner class!  This class would be appropriate for someone who's taken our knitting 101 class or someone who's knit one or two projects and is looking to learn new skills.  Learn everything you need to knit a basic hat, plus pattern reading basics and troubleshooting tips.
What you'll learn:
Session 1: Casting on, knitting in the round, reading a basic pattern, the importance of gauge.
Session 2: Decreases, fixing basic problems, understanding & using the information on a Yarn Label.
Materials:
1 Skein Berroco Lana's Quick or Tahki Superwash Merino Bulky
US 11 circular 16" needles, US 11 double point needles (wood recommended).
1 pack of stitch markers 
All students will be given a 15% discount on yarn supplies for the class (with the exception of a few yarn brands).  Please let us know at the time you are checking out that you are taking this class so that we will be sure to give you the discount!
Cancellations can be made for a complete refund 10 days before the date of the class.  Must Love Yarn reserves the right to cancel the class if the minimum number of students is not met, at that time a full refund will be given to any students who have registered.
Minimum of 2 students
Maximum of 8 students