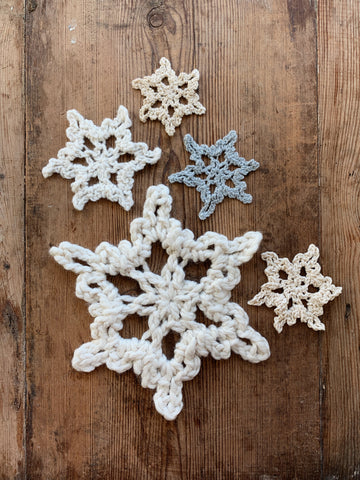 Class - 11/18 Crochet a snowflake Garland
$ 40.00
November 18th 10:30-12:30 Crochet a snowflake Garland
Description: Get ready for the holidays with a festive snowflake garland!  In this one session class we will make an assortment of different snowflakes with various stitches and stitch clusters. Each snowflake is unique and any yarn and hook can be used to make them as they are individual pieces and there is no specific gauge required!
Materials
Any yarn you would like to use to make your snowflakes!

Crochet hook in an appropriate size for the yarn you've brought
Darning Needle
All students will be given a 15% discount on yarn supplies for the class (with the exception of a few yarn brands).  Please let us know at the time you are checking out that you are taking this class so that we will be sure to give you the discount!
Cancellations can be made for a complete refund 10 days before the date of the class. Must Love Yarn reserves the right to cancel the class if the minimum number of students is not met, at that time a full refund will be given to any students who have registered.
Minimum of 2 students
Maximum of 8 students